Tenuta Santa Lucia
Winery in the heart of Sabina
Tenuta Santa Lucia extends between the Sabine hills of Poggio Mirteto, in the Tiber Valley, and produces a fine wine, the result of care and wisdom. 45 hectares of vineyards alongside and from which an excellent grape is harvested.
TENUTA SANTA LUCIA
WINE COMPANY IN SABINA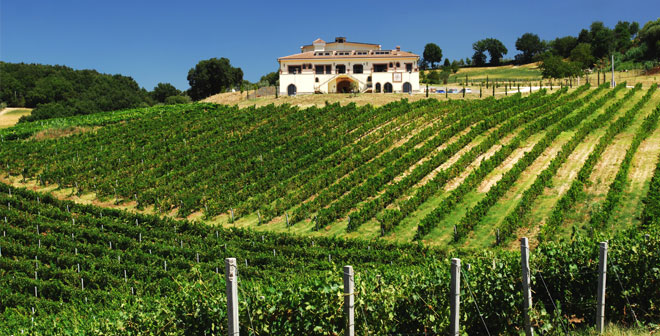 Where the Tiber Valley is dominated by Monte Soratte, green hills stretch out decorated with lush vineyards.
It is in this area that Tenuta Santa Lucia extends, it is here that a lovable wine is produced. It is the town of Poggio Mirteto that has hosted this winery since 1979. It is the Colantuono family who strongly wanted to affirm the goodness of Sabine wine, in Italy and beyond.
The Santa Lucia estate covers 45 hectares which, knowing how to cultivate with knowledge and love for cultivation, have proved to be excellent for the production of different types of wine, high quality wine: Sangiovese, Montepulciano, Cabernet, Alicante, Carignano, Falanghina, Sauvignon, Malvasia.
Our winery is located in the territory of the municipality of Poggio Mirteto (a Sabine town twinned in 2003 with Canejan, which is 15 km from Bordeaux), geographically close to Rome, it falls within the Province of Rieti, well known for the production of a great DOP oil.
The recently built cellar, built according to the most modern winemaking techniques, overlooks the vineyards that cover these predominant Sabine hills in the Tiber Valley and direct to Monte Soratte.
Born thanks to the great effort of the Colantuono-Fiorelli family, the Vineyard was recently built following the most modern and advanced winemaking techniques.
The main goal is to retrain the vineyards of the surrounding hills and to affirm and promote the potential of the Sabine wine production, already famous worldwide in olive oil production.
45 ha of vineyards from which it collects excellent grapes to produce Sangiovese, Montepulciano, Cabernet, Alicante, Carignano, Falanghina, Sauvignon e Malvasia.